Jason Wynyard
 
 



Legend! Jason Wynyard is now nine time STIHL TIMBERSPORTS World Champion.Nov 5th 2017 at LILLEHAMMER, Norway and WAIBLINGEN, Germany.

 
 
 
 
 
 JASON WYNYARD TAKES OUT HIS 9TH WORLD CHAMPIONSHIP 2017 at LILLEHAMMER, Norway and WAIBLINGEN, Germany, November 5, 2017
Jason Wynyard from New Zealand secured his ninth world championship title. Wynyard showed a strong performance and fought his way through the leading group. He took the lead by setting the day's record in his showpiece discipline Single Buck. Wynyard took advantage of his lead and didn't let go of it until the very end. "The title means a great deal to me. At the end, it all comes down to the Hot Saw and here the smallest details matter," said Wynyard.

On Friday, the New Zealanders took the title in the team competition. The "Kiwis", led by Jason Wynyard, defeated the Polish team in the final and grabbed their fourth title.

In 2018, Liverpool England UK will host the STIHL TIMBERSPORTS® World Championship.

 

 
 
 
 
Jason Wynyard Wood chopping Legend
 

joins New Zealand Order of Merit (MNZM) 2017
 Champion axeman Jason Wynyard in action on his home marae, Karetu, in the Bay of Islands, in 1997. Photo / John Stone
Jason Wynyard has won more than 230 world championships and is unparalleled in wood chopping but he reckons being recognised in the Queen's New Year's Honours list is right up there, and even more important for his sport.

Wynyard - Northland's greatest world title winner - has been made a Member of the New Zealand Order of Merit (MNZM) in the Queen's New Year's Honours List for services to wood chopping.

He started wood chopping aged just six, encouraged by his late father Pae - himself an accomplished axeman - and turned professional in 1996.

In November, Wynyard was crowned the best individual wood chopper in the world for the eighth time and despite all the world titles, says his MNZM is the most humbling occasion and a huge honour for him, but especially his sport.

"I'm really proud of it. It's not something you expect when you start out or can train for - and you don't do this for those honours - but it's a tremendous recognition for my sport and all the people who are involved in it and who have supported me all the way," Wynyard said.

"It's as much for all those people and my family - I couldn't do this without them all - and I'm really humbled by it. I really hope it rekindles interest in wood chopping in the north. There can't be many wood choppers who have been honoured like this."

The Northern Advocate caught up with Wynyard on the way back from a holiday in Coromandel as he was heading back north to compete in the Opononi Axemen's Carnival on New Year's Day tomorrow.

"I love competing there.
It's a great wood chopping carnival and such beautiful place. It's a great way to start the New Year too."

Wynyard said when he started out there were six or seven wood chopping carnivals in Northland over Christmas/New Year, but that was now down to two, so he hoped his accolade would spark more interest.

It's been a difficult last few months for Wynyard and his wife Karmyn. His father Pae died in August and Karmyn's mum Sue Lane died earlier this month.

"It's been really hard. Those two wonderful people were really supportive and influential to me and they would be proud to see me receive this honour," he said.

"Dad was never big on words, but he would be so proud. He was the one who got me started in wood chopping, and was pretty good at it himself, and he instilled in me good values and that work ethic."

Wynyard wanted to also give special thanks to late Northern Advocate sports editor Gary Frew and the newspaper.

"Gary Frew and the Northern Advocate were so supportive of me throughout and right from the very start Mr Frew followed me and the sport and gave it tremendous coverage."

Wynyard is also the father of young Kiwi basketballer Tai Wynyard who has a scholarship with Kentucky University in the US.
 ==================================================
JASON WYNYARD, of Ngati Manu hapu, Ngapuhi Iwi and Ngati Maniapoto, Tainui Iwi.  Jason with his wife Karmyn and their three children resides in Waitakere City, Tamaki Makaurau.
1990-2001 Jason, was the huge drawcard to the Annual Ngati Manu Axemen's Chopping Carnival Event held at the Ngati Manu Marae, Karetu. The event was held the 1st Saturday in the New Year.   Visit Jason's website http://www.jasonwynyard.com/  for his World Championship Titles & Competitions details, also full profile, sponsors, latest news, results & upcoming events.
================================================== 
New Zealand's Jason Wynyard takes World Champion title for fifth time 2012

Reigning World Champion, Jason Wynyard from New Zealand returned to the podium for no less than the fifth time, taking Individual honours at the STIHL® TIMBERSPORTS® SERIES World Championship in Lillehammer, Norway on Saturday 8th September 2012.  
Winning three of the six chopping and sawing disciplines of STIHL® TIMBERSPORTS® and giving a powerful performance in the remaining events, Wynyard emerged once again victorious as the best lumberjack athlete in the World.  A total twelve international athletes performed in front of a cheering crowd of 5,000 spectators in the Hakons Hall venue of the 1994 Winter Olympics – the first time the World Championship had been held in Scandinavia. 
Finishing second was Martin Komarek from the Czech Republic, and Australia's Laurence O'Toole took the bronze medal in third.  Great Britain's Spike Milton sadly failed to reach the final twelve after an error in the challenging Hot Saw discipline saw him drop out at the qualifying stage.   
Twelve competitors from Europe, the USA, Canada and Australia fought hard for the title on the final day.  The seriously high level of competition was proven when the ultimate silver medallist,  Martin Komarek set a new European record in the Underhand Chop event, cutting his wood block in just 18.09 seconds. 
The lead changed several times during the competition, and the Champion Jason Wynyard got off to a slow start, coming only 7th in the opening Springboard event where he finished more than 19 seconds behind Mitch Hewitt of Canada, who completed the Springboard in an incredible 42.23 seconds.  Wynyard soon got into his stride however, and by the Single Buck event he had certainly found his form, finishing both that and the final two disciplines in the lead – more than enough to secure victory overall.  Speaking after the event he said:  "I am so happy!  It was an outstanding competition, I salute all the athletes!  The performance level was unbelievably high, the boys put a lot of pressure on me and I had to show all my skills to win." 
Full results of the Individual World Championship are available below.  Click through the Image Gallery below for a selection of pictures from the 2012 World Championship and keep visiting these pages for news of when highlights will be broadcast on TV.
Full results of the Individual World Championship
Wynyard in a walk
New Zealander takes ninth title at STIHL TIMBERSPORTS championship
By Kyle Carter
ESPNOutdoors.com


SALEM, Ore. -- It's an odd sight watching a man hold a hot saw above his head and scream. Even in the hands of a seasoned lumberjack like Jason Wynyard, the chainsaw modified with a snowmobile engine looks out of place.

But there's no script for winning a ninth STIHL TIMBERPORTS championship, so Wynyard just did what came natural. Not to mention the fact that he had just cut through a massive white pine log three times in less than 6 seconds, so something like that comes with adrenaline.

"I'm getting up there in age a little bit and these things aren't getting any easier," said the 36-year-old New Zealander who, along with countryman David Bolstad, has accounted for the past 14 championships. "It's been the premier event in the world for a number of years, and I'm very fortunate to have won it so many times."

The STIHL TIMBERSPORTS Series celebrated its 25th anniversary this year and is the second longest running show on ESPN behind SportsCenter. The format has changed slightly throughout the years -- including a few years as a part of the Great Outdoor Games -- but the purpose of the show as endured; Find the best lumberjacks in the world and send them through six traditional lumberjack disciplines to see who's best.

Wynyard won three of the six disciplines at the Oregon State Fair on Sunday and never finished worse than third (out of 12) in any event. That third-place finish came in the first event of the day, the springboard. Actually, after three events, it was looking more like Bolstad's day than Wynyard's.

But in event four, the single buck, Wynyard started putting a hurt on the wood that made the trees on Mt. Hood quiver with fear. He won all of the final three disciplines, creating a margin of victory that surprised even himself.

"It's tough to beat some of these guys who specialize in events," he said. "I really had to knuckle down and do a lot of training to get myself in good shape. It hasn't sunk in yet, really."

He attributed most his success this year to a more organized training schedule geared toward doing well at this event. He focused more on endurance, and built up his workouts gradually to avoid injury.

"This is very unusual for me, but I kind of planned ahead a little," he said as he packed up one of the more than 20 axes he brought. "I used to just train kind of week to week without a plan, but I can't do that stuff anymore at age 36. You can't be carrying nagging injuries into an event like this, and I was able to avoid that."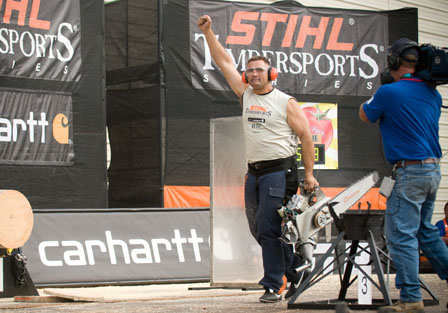 Among the many prizes he received for his victory was a brand new Dodge Ram, but Wynyard said it was more about the victory than anything.

"That's the fantastic thing about this series," he said. "It challenges you in so many ways and it makes these wins incredibly gratifying."

A young girl approached Wynyard mid-interview and asked if he would sign a poster for her friend Jenna. "Hi, Jenna," he wrote after double checking how to spell her name. "Jason Wynyard, STIHL champion, 2010."

A reporter commented that if he wrote down all the years of his championships, the interview might never end. Wynyard did his usual smile, which seems to go more across his face than up at the edges.

"I've been fortunate," he said.
He's a lumberjack and he's OK - in fact, New Zealander Jason
Wynyard is a world champion.
Wynyard, 36, has chopped a field of 19 lumberjacks down to size to win
the world championship in Brienz, Switzerland, this week.
For the second time since 2006, the West Aucklander triumphed, winning
four of six disciplines to take the overall title.
"After getting off to a weak start in the first axe discipline, I did pretty
well," he said.
"It was hard work, but it was a great competition. Brienz is incredible,
the people were incredible, and I am proud to have won here. It is a
special moment for me."
Columbus, Georgia - STIHL TIMBERSPORTS championship.
This was a grueling event for the world's best lumberjacks, and one of
the hottest events I've ever covered. A thermometer stationed near the
competitors stage peaked at 48 deg C everyday.
In such adverse conditions, it doesn't take long before you realize what
incredibly fit athletes these lumberjacks are.
Jason Wynard, of Massey, Auckland, New Zealand, outchopped and
outsawed seven of the top lumberjacks in the world to win again.
There are few athletes who can claim supremacy in their sport,  on
Sunday, the 6-foot-4, 297-pound Wynyard earned that right. Nobody
but he and fellow New Zealander, Dave Bolstad have won the
championship since 1997.
STIHL® TIMBERSPORTS® 2009 World Championship in Switzerland
New Zealander is World's Best Competitive LumberjackThe world's top competitive lumberjacks have crowned a new champion at the 2009 STIHL® TIMBERSPORTS® World Championship: Jason Wynyard of New Zealand won four of six disciplines with axe and saw and thus the overall title.
A total of nineteen athletes from the same number of nations competed in this athletic event in Brienz, Switzerland in front of 5,000 spectators.Brienz, 13 September 2009. A total of 19 competitive lumberjacks comprised the starting field of the 2009 STIHL® TIMBERSPORTS® World Championship in Brienz, Switzerland.
All participants numbered among the world's elite, but the fastest and technically most perfect in this competition of the best was Jason Wynyard. Already for the second time since 2006, the New Zealander triumphed over the competition. He won four of six disciplines to take the overall title.
The top international athletes set a total of 20 new national records before a sold-out crowd of 5,000 enthusiastic spectators and thus demonstrated the high general level of accomplishment in this competition series. Athletes from Sweden, Denmark, Great Britain, Ireland, the Netherlands, Belgium, Luxembourg, France, Spain, Poland, the Czech Republic, Romania, Austria, Germany, the USA, Canada, New Zealand and Australia travelled to Switzerland's Bernese Oberland district for the international season finale of the elite division of lumberjack sports.
World Champion Jason Wynyard was happy about his victory: "After getting off to a weak start in first ax discipline, I did pretty well. It was hard work, but it was a great competition. Brienz is incredible, the people were incredible, and I am proud to have won here. It is a special moment for me."
At the end of this year's competition, it was announced that the next STIHL® TIMBERSPORTS® World Championship will be held on 4 September 2010 in St. Johann in Tyrol / Austria.Six disciplines enthralled Swiss spectatorsThe STIHL® TIMBERSPORTS® SERIES consists of three disciplines with the ax and three with the saw. The six technically demanding disciplines revolve around the athlete and his handling of the sports equipment and the wood.
Pictures of the STIHL® TIMBERSPORTS® World Championship are available on the Internet at http://presse.stihl-timbersports.com/(access with press / press).
  NOTABLE RESULTS                                  UPCOMING EVENTS 2010
STIHL Timbersports Champion: 1997, 1998, 1999, 2000, 2002, 2005 & 2006 and 2009

Lumber Jack World Championships: 1999, 2000, 2001, 2002, 2003, 2004, 2005, 2006, 2007, 2008

Great Outdoor Games (Men's Endurance Champion): 2000, 2001, 2002, 2004

STIHL Timbersports WORLD CHAMPION at World Championships: 2006 (Germany)

2008 OUTSTANDING RESULTS

GOLDEN AXE RECIPIENT -Tokoroa, Golden Axe Carnival

5X WORLD TITLES - Hayward, Wisconsin (USA) *Springboard, Standing, Underhand, Double Saw, Single Saw.

3X WORLD TITLES - SINGLE SAW WORLD CHAMPION - DOUBLE SAW WORLD CHAMPION - UNDERHAND & STANDING ELIMINATION CHAMPIONSHIPS WINNER - Sydney Royal Easter Show

New Zealand Team member to beat Australia in 3 Test Series (2 of 3 races) - Waitomo, Otorohanga, Taumarunui.

CHAMPION OF CHAMPIONS - Brunswick Heads, QLD, Australia

2007 OUTSTANDING RESULTS

3X WORLD TITLES LUMBERJACK WORLD CHAMPIONSHIPS - Springboard, Double Saw, Jack n' Jill Saw

GOLD AXE RECIPIENT - Tokoroa Golden Axe Carnival

2X WORLD TITLES - Sydney Royal Easter Show

01 Jan 30th - 31st ROTORUA A & P Show

02 Feb 5th - 6th BERRY SHOW, NSW,  Australia

02 Feb 10th - 12th  Southern Field Days

02 Feb 19th - 21st  Canbera Royal Show

03 Mar 4th - 6th Northland Field Days, Dargaville, Kaipara

03 Mar 13th - 14th Kumeu A & H Show

03 Mar 17th - 20th Central Field Days

04 Apr 1st - 14th Sydney Royal Easter Show, Australia

04 Apr 19th - May 15th EUROPE Coaching

06 Jun 16th - 19th Mystery Creek, Waikato

 USA

07 Jul 23rd - 25th Lumberjack World Championships, Hayward, Wisconsin (USA)

08 Aug 14th - 15th Morton, WA

08 Aug 27th - 29th STIHL Timbersports Series

More UPCOMING EVENTS to add..

xx
Page last updated 9 Nov 2017